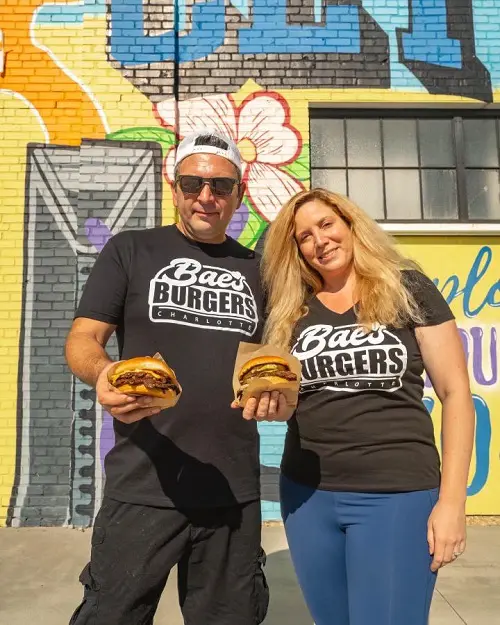 EDITOR'S NOTE: This article was originally published in the March edition of "IFN Monthly."
BY JAIME GATTON
It's easy to see why Claire Connelly and Fabian Elmes became "baes." Their shared passions and work ethic, combined with skills they learned from past professions, catapulted the powerhouse couple into creating what quickly became one of the most-loved food trucks in the Greater Charlotte area: Bae's Burgers.
In September — within just a few years of moving their belongings, including the food truck, from Miami to be closer to family in Statesville — Connelly and her husband Elmes had grown enough to trade-in their food truck for a storefront in Downtown Mooresville.
Connelly credits Miami's highly competitive food-truck market for preparing the couple to hit the ground running in North Carolina. "Miami was oversaturated with food trucks," she said, adding that the competition kept her and Elmes on top of their game at all times.
With solid backgrounds in food, beverage, promotions, marketing and strategy, Connelly and Elmes brought their "Miami energy" to the "far more laidback" food-truck market in and around Charlotte. Their move to North Carolina came just before the onset of the Covid-19 pandemic, but instead of backing down, they embraced the challenge, thinking outside-the-box to reach and grow a loyal customer base.
It worked.
"It took a lot of hard work and failed firsts," said Elmes.
Connelly smiled at her bae. "He's never satisfied," she said. "He is always finding something to make better — almost every day."
Bae's made BFFs with breweries. Ghostface in Downtown Mooresville, Connelly said, was one of their first food-truck gigs. The truck grew in popularity at Sycamore Brewing in Charlotte, too.
They spent many Saturdays at Josh's Farmers Market in west Mooresville. In fact, they were one of the market's first-ever visiting food trucks.
"I will never forget Bae's first trip here," said Market owner Josh Graham. "They came here not knowing what to expect and sold out in an hour. When I popped in to check on them, I will never forget Fabian's face! It was a great partnership and a great way to help introduce them to Mooresville."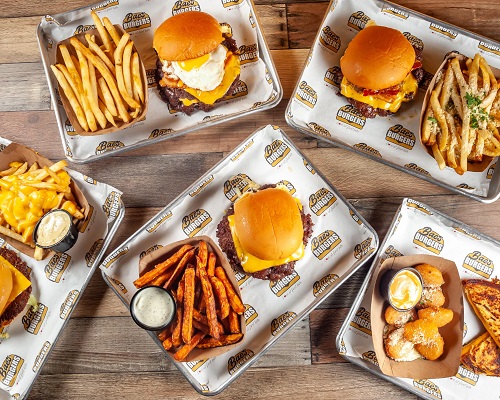 While Bae's marketing and reach are impressive — especially for launching in a new state during a pandemic — its burgers get the last word. And they speak for themselves. With burgers made of a dry-aged, grass-fed beef blend of chuck, short rib and brisket from Gibson Farms in Statesville, Bae's keeps its menu simple: The Boss, The Bae, The Sunburn and The (plant-based) Pretender.
Bae's won "best burger" in the 2021 Queen City Nerve's "Best in the Nest" food-critic competition. Describing The Boss, the Nerve wrote: "Bacon, cheese and grilled onions check off all the boxes, but the real fun here comes from how skillfully the Maillard reaction on the grill is manipulated to turn smashed beef into crunch, which means even more great flavor."
That crunch? It's no joke.
Bae's also features various sides like fries (classic, garlic-parmesan, sweet potato and cheese-smothered), onion rings and mac-and-cheese bites. The team makes its own sauces in-house, including the famous Bae sauce, ranch, spicy ranch and garlic aioli. As a nod to its humble-but-hard-working beginnings: Bae's carries and rotates craft beers from different area breweries it partnered with while still a food truck.
"This was always the goal," said Connelly, looking around their quaint, "fast-casual" brick-and-mortar spot at 246 N. Main Street in Mooresville.
Elmes said the couple considered building or sinking roots in various places, including Concord or even Atlanta. But building from the ground up was too expensive, and it seemed as soon as a suitable building was listed to rent, "we were always late getting to it," Elmes said.
Perhaps Downtown Mooresville was just meant to be for Bae's.
"We've always done so well here," Connelly said. "It's such a great area."
The building they're in now wasn't originally on the couple's radar because it wasn't exactly listed on the market. "You just had to know someone," said Connelly, "and another restaurant owner gave us a tip. A lot of people wanted this spot, and some of them had multiple other locations. And here we were, just starting from a truck, looking for a chance."
And that's exactly what they got.
While they've sold the original Bae's food truck, folks can still expect to find the dynamic duo and its cheerful staff popping up from time to time at events like the upcoming Moo, Brew & Que Fest in Charlotte. And while it may be too soon to sweet-talk Connelly and Elmes into specifics, they openly acknowledge they're looking forward to future growth — including the idea of franchising, in particular.
LEARN MORE
Check out the menu and more at www.baesburgers.com.